Hotspot am Starnberger See – Nordbad Tutzing
Nordbad Tutzing – Hotspot am Starnberger See, lässig Speisen in exklusiver Lage 
Von München aus erreicht man nach 25 km Starnberg, was am Nordende des Starnberger Sees liegt. Der Starnberger See ist der fünftgrößte See in Deutschland und durch den skandalumwitterten Tod von König Ludwigs II im Jahr 1886 durch Ertrinken, weit über Bayern hinaus bekannt. Es gibt wirklich nur wenige exklusive Kennzeichen mit drei Buchstaben. Wer STA am Anfang stehen hat, lebt nicht nur in einer wunderschönen sehr exklusiven Region, sondern auch in einer Region. Sondern auch dort, wo sich die Reichen und Schönen gerne niederlassen – und das Bauland knapp ist. Von Starnberg aus sind es nur einige Kilometer weiter nach Tutzing. Lässig durch die oberbayerische Natur cruisen ist herrlich – man sollte allerdings immer sein Ziel vor Augen haben! Zu verführerisch sind die Alternativen im Fünfseeland. 
hotspot at Lake Starnberg, casual dining in an exclusive location.
From Munich you can reach Starnberg at 25 km, which is located at the north end of Lake Starnberg. Lake Starnberg is the fifth largest lake in Germany and by the scandalous death of King Ludwig II in 1886 through drowning known far beyond Bavaria. There are really only a few exclusive license plates with three letters. STA in the beginning does not only stand for a beautiful very exclusive region, but also for a region where the rich and famous like to settle. From Starnberg it is only a few kilometers to Tutzing. Cruising through the Upper Bavarian countryside is gorgeous – but you should always have your aim in mind!
Unser persönlicher Hotspot am Starnberger See –  Nordbad Tutzing
Die Lage ist einmalig – ein Bootssteg direkt am See. Viele vermissen dort eine gemütliche Luxus Lounge oder lockere Chill-Musik mit modernem Fingerfood. Zum Glück gibt es für diesen Geschmack genügend "möchte gern" "ach bin ich hip" Locations.
Man sitzt auf Bierbänken oder Sommerstühlen, das Essen ist gehobener Imbiss zu moderaten Preisen – keiner will hier Chicki- Micki Essen mit Petersilienschäumchen und einen Hugo, der so schwach gefüllt ist, dass man Angst bekommt, er könne nach fünf Minuten verdunsten.
Hip sein ist hier nicht wirklich angesagt – klar wird schon einmal geschaut wenn ein Boot anlegt, Fussballstars oder Deutsche Schauspieler mit Ihrer Familie neben einem sitzen und eine Currywurst mit Pommes essen.
Our Personal Hotspot on Lake Starnberg is the Nordbad Tutzing. 
The location is unique – at a boat dock on the lake. Some people might miss a cozy luxury lounge there or chill music with contemporary finger food. Luckily, there are enough other places for these "I would like to" or "oh, I'm hip" people. 
You are sitting on beer benches or summer chairs, the food is fine at moderate prices – no one here wants the usual chichi crowds and food with smooth creamy or Hugo, that is so weakly filled that one gets scared, it could evaporate after five minutes. 
Being hip is not really popular here – sometimes a boat of on of the soccer stars or german actor might arrive there with his family sitting next to you with currywurst and fries.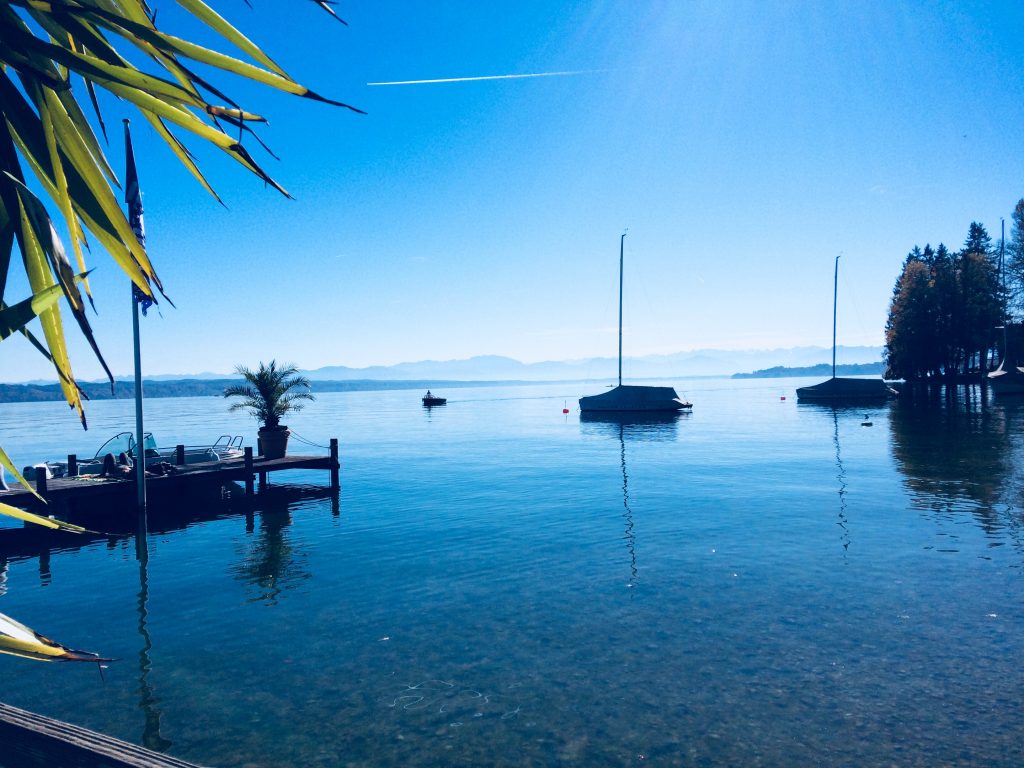 Location 
Auf der kleinen Liegewiese des Nordbades oder auf dem Holzsteg kann man die herrliche Aussicht über den See hin bis zu den Bergen geniessen. Die Getränkekarte bietet alles, was einen die heissen Tage am See überstehen lässt und auch ein bisschen mehr. Sogar an einem regnerischen Tag und mit Nebel über dem See sitzt man überdacht. Währenddessen kann man perfekt die mystische Stimmung bei Kaffee und Blechkuchen genießen.
Kein Wunder, dass nicht nur bei Comédies wie Harry G das Nordbad als offizieller Sitz der Kitzbühel Fraktion bekannt ist – jedermann, der lässig einen Tag am Starnberger See mit gutem Style auf einer Bierbank mit einem Weissbier oder einer Flasche Rosé verbringen möchte und einen guten geschmolzenen Bergkäse mit Baguette dazu mag, der ist hier richtig.
The Place 
On the small lawn of Northern bath or on the boardwalk you can enjoy the magnificent view over the lake surrounded by the mountains. The drinks menu offers everything needed to survive hot trips on the lake and also a bit more. Even on a rainy day over the lake you sit covered. Meanwhile one can enjoy the mystical atmosphere over coffee and cake. 
No wonder that not only Comédies as Harry G calls the Nordbad "the official headquarters of Kitzbühel High Society". Anyone who casually wants to spend a day at Lake Starnberg with good style with a wheat beer or a bottle of rosé and a good mountain cheese with baguette, is absolutely right here.