ESSENCE – Feine Küche und Ambiente im Münchner Westen
Das ESSENCE – Geheimtip
Das ESSENCE Restaurant & Lounge (Homepage) ist unser Geheimtip im Münchner Westen. In Pasing, im Neubau des Gottfried-Keller-Carré, was gerade einmal 6km vom Schloss Nymphenburg und dem Schlosspark entfernt ist, haben Daniel und Daniela Roch ein Reich des "absoluten Seins" geschaffen. Vielleicht war es Zufall oder auch Bestimmung, dass das ESSENCE so nah am Schloß Nymphenburg liegt. Jenes Schloss wurde 1664 vom Kurfürsten Ferdinand Maria als Geschenk an seine Frau Adelheid von Savoyen in Auftrag gegeben, als Sie ihm den lang ersehnten Thronerben Max Emanuel geboren hatte.
ESSENCE – Secret tip
The ESSENCE Restaurant & Lounge is our secret tip in the west of Munich. In Pasing, in the new building of the Gottfried-Keller-Carré, just 6km from Nymphenburg Palace and the Castle Park, Daniel and Daniela Roch created a realm of "absolute being". Perhaps it was coincidence, or even a provision, that the ESSENCE is so close to the Nymphenburg Palace. This castle was commissioned in 1664 by Kurfürst Ferdinand Maria as a gift to his wife Adelheid of Savoy, when she had given him the long-awaited throne, Max Emanuel.
Kochkunst
Dem kulinarisch-fürstlichen Hochgenuss hat sich Christian Kosmak, Chef du Cuisine und sein Team verpflichtet. Er führt französische Hochküche mit regionalen, mediterranen und asiatischen Einflüssen zusammen. Sein Ziel ist es eine Geschmacksharmonie zu erschaffen, welche die Gästen nachhaltig berühren sollen. "The sensual Essence of Taste." Wir, W&W 360 Grad leben genau nach diesem Motto. Erinnerungen, Emotionen und Nachhaltigkeit. Für uns stand fest, dass wir diese Essence erleben müssen.
Fine Cuisine 
Christian Kosmak, Chef du Cuisine and his team commit themselves to culinary-princely enjoyment. He combines French cuisine with regional, Mediterranean and Asian influences. His aim is to create a harmony of taste, which should touch the guests on a lasting basis. "The sensual Essence of Taste." We, W & W 360 live exactly according to this motto. Memories, emotion and sustainability. It was clear to us that we had to experience this Essence.
Beginnen wir die kulinarische Reise
Auf einen Mittwochabend verabredet, um das Bergfest der Arbeitswoche zu feiern, trafen wir uns mit Freunden im ESSENCE. Wer vor dem Restaurant keinen Parkplatz bekommt, der findet in der hauseigenen Garage einen passenden Platz. Die Einfahrt der Tiefgarage geht zwar steil bergab, aber auch für Supersportwagen ist das kein Problem.
To start our culinary trip
On a Wednesday evening we met with friends in ESSENCE. If you do not find a parking space in front of the restaurant, you will find a suitable place in the garage. The entrance of the underground garage goes steeply downhill, but also for supersportscars is not a problem.
Das Ambiente
Das ESSENCE ist in drei separate Bereiche eingeteilt. Bar, Lounge, Dinner und ist elegant, modern und hochwertig eingerichtet. An der Bar warteten wir bei einem Glas Champagner und verführerischen Appetizern auf unsere Freunde.
Die Tischaufteilung, sowie Licht und Raumgefühl ist sehr angenehm, ebenso die Raumakustik. Obwohl das Restaurant bis auf den letzten Platz gefüllt war (Tischreservierung ist von Vorteil) konnten wir uns mühelos an unserem Tisch unterhalten.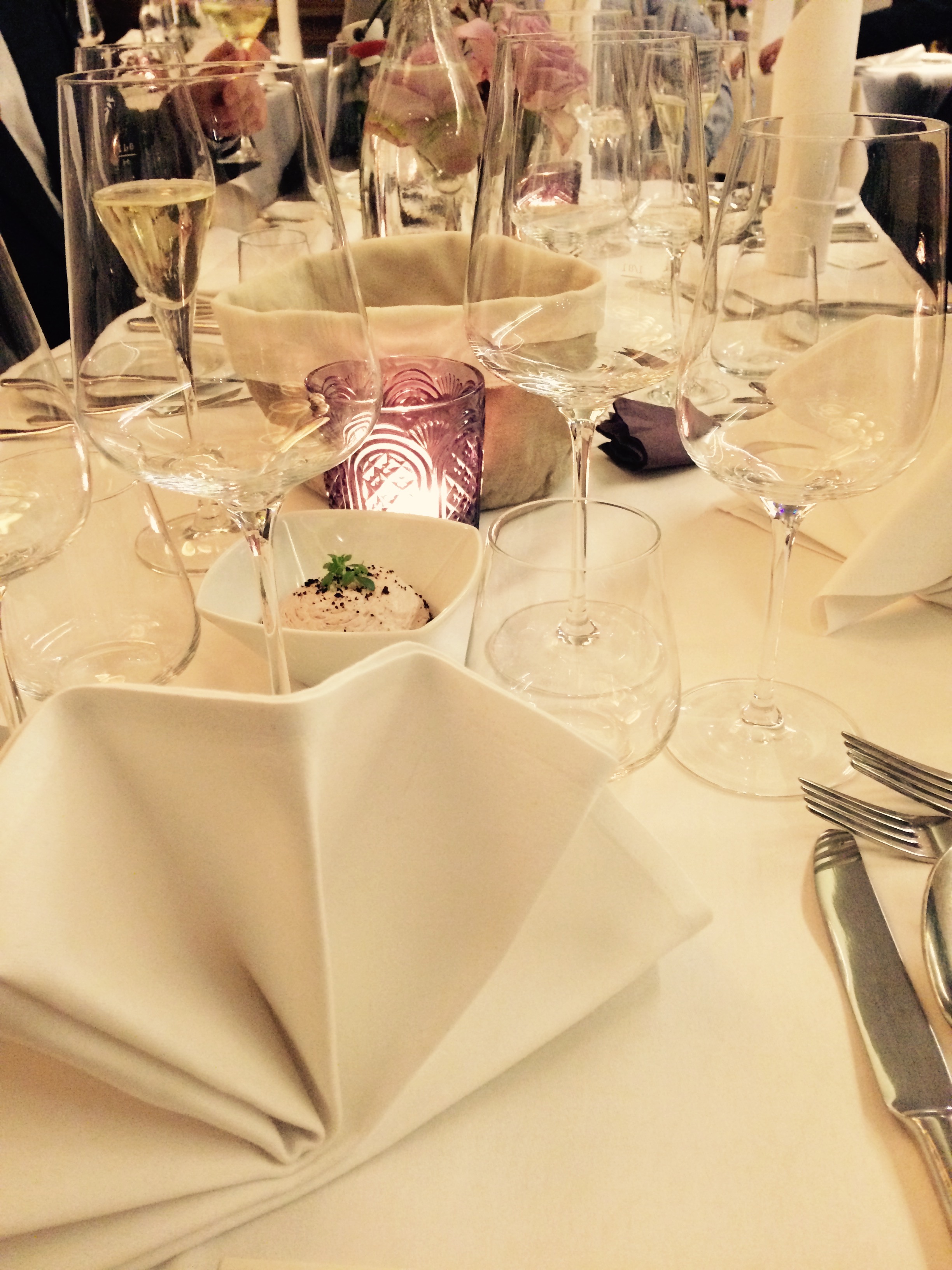 Das Menü – eine wunderbare Reise durch das ESSENCE
Mit Spannung und Vorfreude erwarteten wir folgendes Menü:
Carpaccio von der Rotgarnele/Quinoa/Mango/Jakobsmuschel
xxx
Essence vom Sauerbraten/eigener Ravioli
xxx
Rücken vom Limousin Lamm/Salzzitronenjus/Parmaschinkebohnen/gebratene Polentaschnitte
xxx
Birne Helene/Basilikum Sorbet
The ambience 
The table division, as well as light and space feeling is very pleasant, as well as the room acoustics. Although the restaurant was filled to the last place (table reservation might be of advantage) we could easily have a chat at our table. The ESSENCE is divided into three separate areas. Bar, lounge, dinner and is of elegant, modern and high quality style. At the bar we waited with a glass of champagne and tempting appetizers for our friends.
The menu – a marvelous trip through ESSENCE
With excitement and anticipation, we expected the following menu:
Carpaccio of the red shrimp / quinoa / mango / mussel
Xxx
Essence of the Sauerbraten / home made ravioli
Xxx
Saddle of the Limousin lamb / salted citron jus / Parma ham/ beans / fried polenta slices
Xxx
Pear Helene / basil sorbet
Weinkenner
Damit die besten Geschmacksnuancen unser Gourmet-Menü abrunden, konnte Sommelier Martin Pechlof (Zuvor: Villa am See am Tegernsee, Restaurant Rehmann am Chiemsee, Romantik Hotel Goldene Traube) uns eine Weinauswahl der besten Anbaugebiete in Deutschland, Österreich, Frankreich uvm präsentieren. Unser Favorit des Abends: Schloss Halbturn Blaufränkisch Königsberg Premium.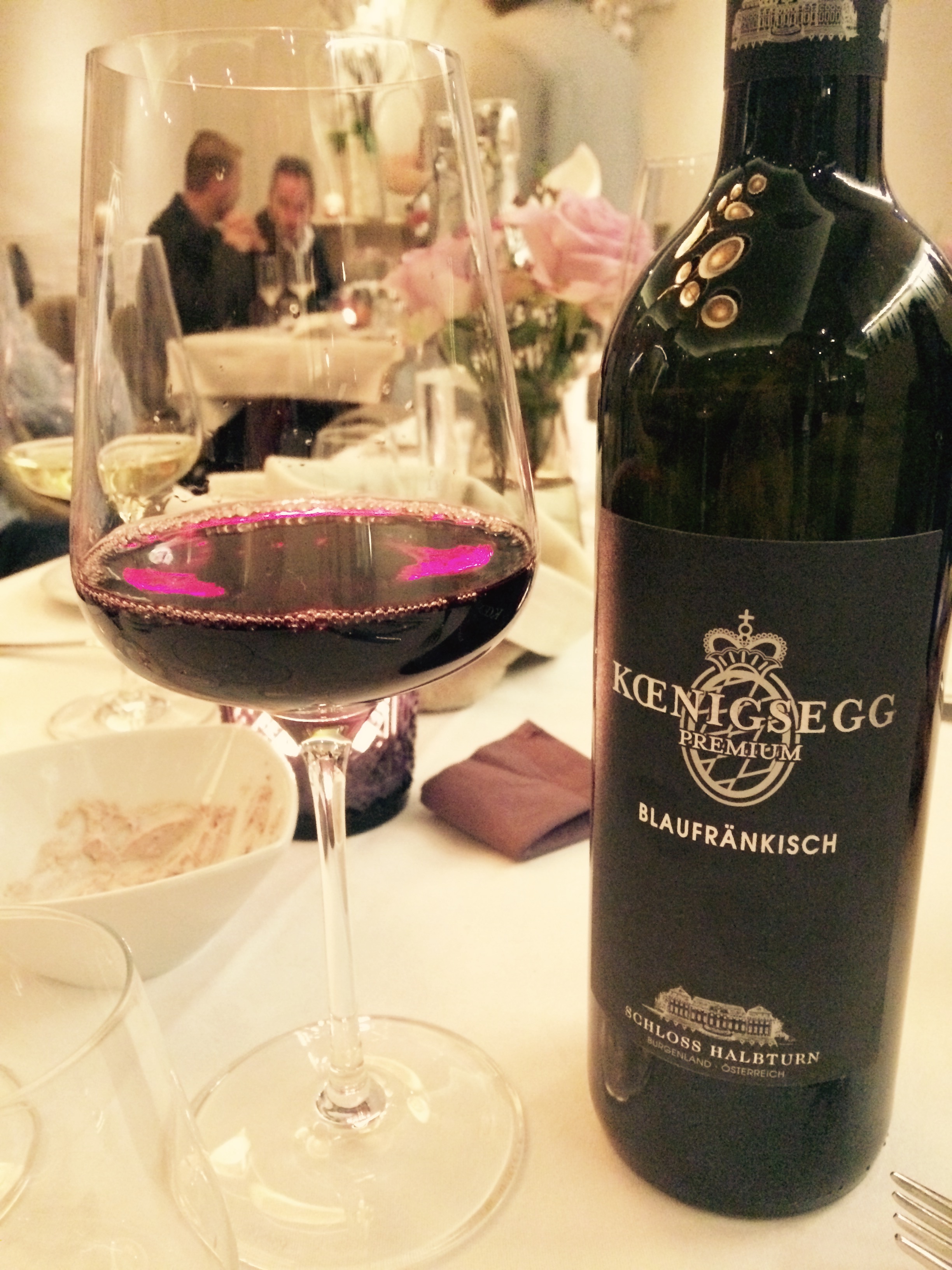 Experts of wine 
Sommelier Martin Pechlof (stations before: Villa am See at Lake Tegernsee, Restaurant Rehmann am Chiemsee, Romantikhotel Goldene Traube) was able to present a wine selection of the best cultivation areas in Germany, Austria, France and many more. Our favorite of the evening was: Schloss Halbturn Blaufränkisch Königsberg Premium.
Geschmackserlebnisse – experiences of taste
Das Essen oder doch die Kunstwerke sind wahre Geschmackserlebnisse. Der Service serviert diese mit soviel Vorfreude, wohl mit dem Wissen auf die strahlenden Augen ihrer Gäste. The food or better so say the works of art are true taste experiences. The service serves them with so much anticipation, probably with the knowledge on the radiant eyes of their guests. Unser unglaublichstes Geschmackserlebnis fanden wir in der Essenz vom Sauerbraten und eigener Ravioli. Wie ist es nur möglich, das fragten wir uns alle am Tisch, dass man solch eine Geschmacksexplosion hervorzaubern kann.
Our most unbelievable taste experience was found in the Essence of the Sauerbraten and own ravioli. How is it possible, we all asked ourselves at the table that you can conjure up such a taste explosion.
Es war ein fantastischer Abend – vielen Dank an die Inhaber Daniel und Daniela Roch und an das ganze ESSENCE Team, das Reich des "absolutem Seins" verwirklicht Ihr mit viel Herz, Leidenschaft und hoher Kochkunst.
It was a fantastic evening – thanks to the owners Daniel and Daniela Roch and to the entire ESSENCE team, the realm of "absolute being" you realize with heart, passion and fine cuisine.