150 Jahre Tradition, Brillanten und 1,6 Karat für den guten Zweck
Juwelier Fridrich feiert mit 100 geladenen Gästen in München 
Das Traditionshaus Juwelier Fridrich – seit 1864, eines der ältesten Münchner Juwelier Häuser, lud zu einem faszinierenden und hochkarätigen Abend mit brillanten Schätzen ein.
Über 100 geladene Gäste folgten der Einladung zum Start der Brillant-Wochen des Hauses.
Stephan Lindner, geschäftsführender Gesellschafter von Juwelier Fridrich, begrüßte am Eingang persönlich jeden Gast und eröffnete den Abend mit einer herzlichen Rede. Im Mittelpunkt standen nicht nur Diamanten und Uhren, sondern auch das Engagement von Lydia Staltner (Vorstand) von LichtBlick Seniorenhilfe e.V.
Jeweler Fridrich celebrates with 100 selected guests in Munich
The traditional jewelry house Fridrich – since 1864, one of the oldest Munich jewelers' houses, invited to a fascinating and top-carat evening with brilliant treasures.
Over 100 invited guests followed the invitation to start into the Brilliant weeks of the house.
Stephan Lindner, managing partner of the family, greeted every guest personally at the entrance and opened the evening with a hearty speech. The main focus was not only on diamonds and watches, but also on the commitment of Lydia Staltner (CEO) of LichtBlick Seniorenhilfe e.V.
Diamonds are forever 
Otmar Effgen sorgte den ganzen Abend über für große Aufmerksamkeit mit seiner Handwerkskunst, dem Diamantenschleifen. Otmar Elfgen: "Kein Diamant ist wie der andere, ähnlich wie beim Fingerabdruck!"
Schritt für Schritt bezwang er live, vor den Augen der Gäste, den härtesten Rohstoff der Welt, den Diamant "Adamas" und verlieh ihm seinen Schliff.
Die Faszination und Bedeutung von Diamanten ist bekannt. Der Name leitet sich aus dem spätlateinischen Akkusativ Dianas oder zu griechisch adámas "unbezwingbar" ab. 
Entsprechend konnte es also nichts Angenehmeres geben, als sich von den Spezialisten des Hauses Fridrich bei einem Glas Wein oder Prosecco die außergewöhnlichen Stücke präsentieren zu lassen. Wie heißt es auch in der englischen Originalfassung des James Bond aus dem Jahre 1971: Diamonds are forever.
Besonders gefallen haben uns die einzigartigen Drehringe aus dem Hause MEISTER.
Otmar Effgen drew a lot of attention to his craftsmanship, the diamond grinding. Otmar Effgen: "No diamond is like the other, similar to a fingerprint!"
Step by step, he mastered the diamond "Adamas" the hardest raw material in the world, in front of the eyes of the guests. 
The fascination and importance of diamonds is known. The name derives from the late Latin accusative Diana, or from Greek adámas "invincible". As it was also the title of a James Bond movie of 1971: diamonds are forever. 
Accordingly, there could be nothing more pleasant than letting the specialists of the house Fridrich present the extraordinary pieces accompanied by a glass of wine or Prosecco. We really like those exclusive rotating diamond rings by MEISTER.
Ein Herz und ein Funkeln für einen wohltätigen Verein 
Die Familien Fridrich und Lindner zeigten nicht nur Einsatz für ihre Kunden, sondern auch für LichtBlick Seniorenhilfe e.V.. Der Verein kümmert sich um mehr als derzeit 10.000 Menschen, die in Altersarmut leben.
Der Höhepunkt des Abends war, als das Juwelierhaus Fridrich, durch Geschäftsführer Stephan Lindner ein Collier mit einem 1,6 Karat-Herz-Diamant im Wert von 11.000 EUR präsentierte. Das Collier kann während der Brillant-Wochen (bis 25.November) erstanden werden. Der Erlös geht zu 100% an LichtBlick Seniorenhilfe e.V..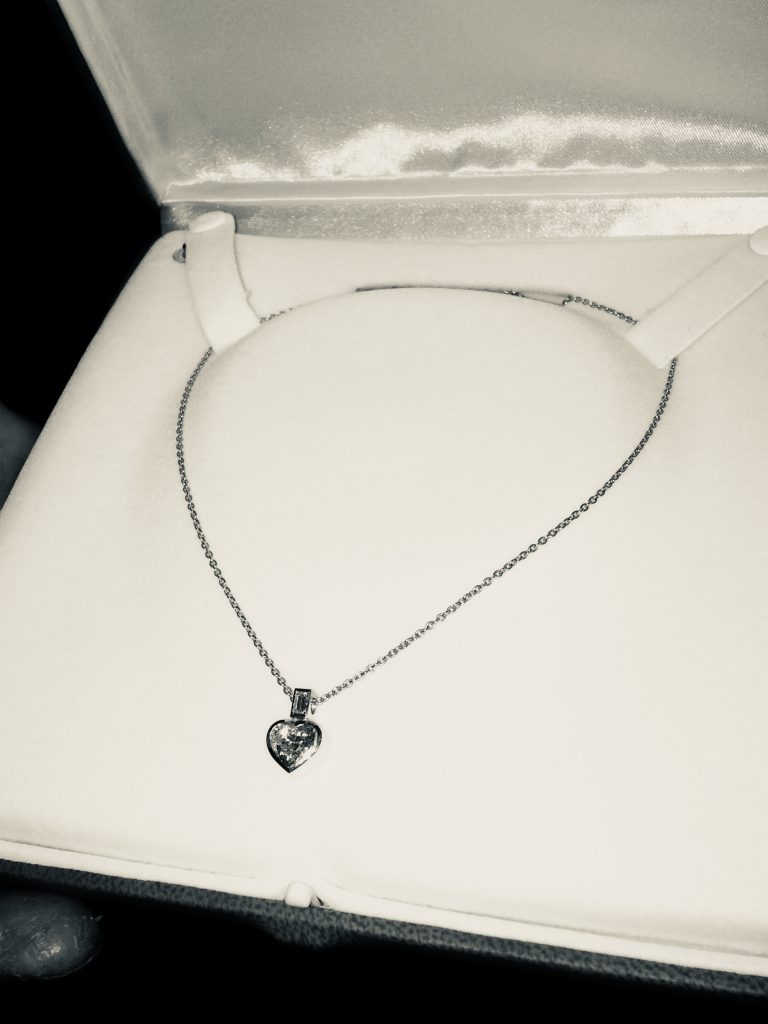 Lydia Staltner (Vorstand) von LichtBlick Seniorenhilfe:
"Es ehrt uns sehr, dass ein Juwelier wie Fridrich damit das eigentlich unschöne Grenzthema Altersarmut unterstützt."
Für alle Gäste war das ein bewegender Moment.
A heart and 1,6 carat sparkle for a charitable society 
The families of Fridrich and Lindner not only demonstrated their commitment for their customers, but also for LichtBlick Seniorenhilfe e.V.. This association looks after more than 10,000 people living in Munich in age poverty.
Highlight of the evening came when the jeweler's house Fridrich, donated a necklace with a 1.6 carat heart diamond worth 11,000 EUR. This necklace can be purchased during the Brilliant Weeks (until November 25th). All revenues are donated 100% to LichtBlick Seniorenhilfe e, V.
Lydia Staltner (Board of Management) of LichtBlick Seniorenhilfe:
"It is a great honor for us, that a jeweler like Fridrich supports the real unsightly border issue of age poverty."
This was a moving moment for all the guests.
Kulinarik
Das Team von Alfons Schubeck versorgte die Gäste durchgehend mit einem Flying Buffet mit Leckereien wie z.B. Tatar von der gebeizten Eismeerforelle, Tomatencocktail mit Süßholz und gezupftem Büffelmozzarella. Unser kulinarisches Highlight war Risonisalat mit Datteln, Lauchzwiebeln, Granatapfelkernen und Joghurtcrisp. Für einen prickelnden Abschluss sorgte das hausgemachte Cassissorbet, welches mit Prosecco aufgegossen war.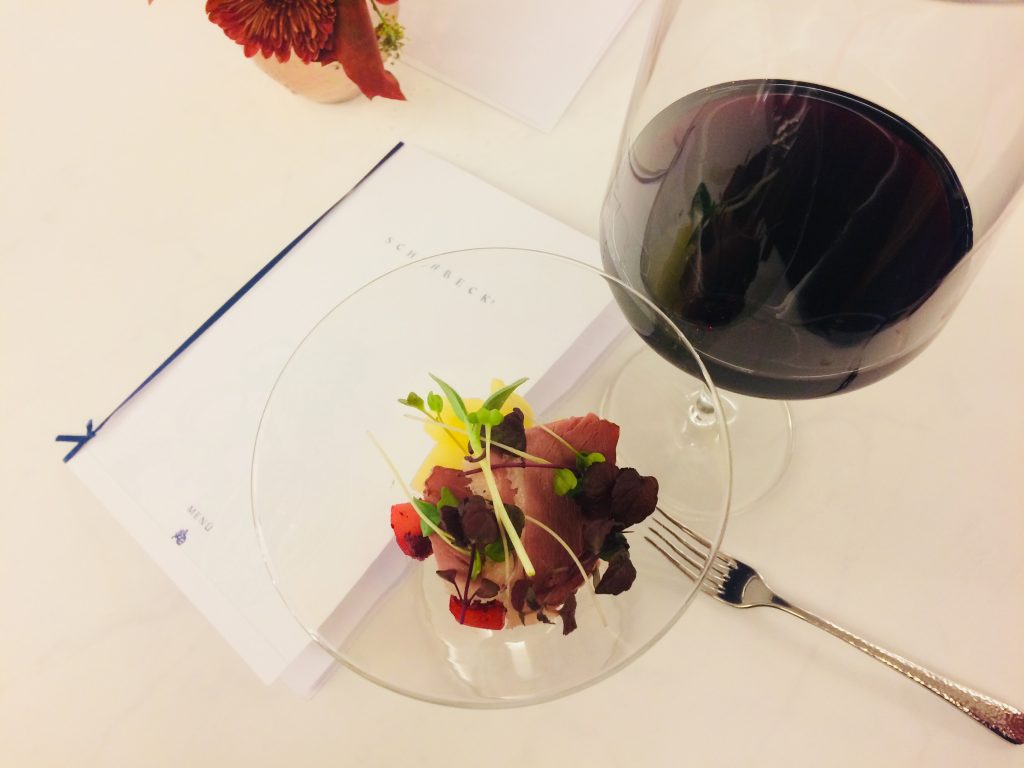 Culinary highlights 
The team of Alfons Schubeck delighted the guests with a flying buffet with delicacies like tatar of pickled sea trout, tomato cocktail with licorice and plucked buffalo mozzarella. Our culinary highlight was risoni salad with dates, onions, pomegranate seeds and yoghurt crisp. For a tingling conclusion there was homemade sorbet of cassis, which was poured with Prosecco.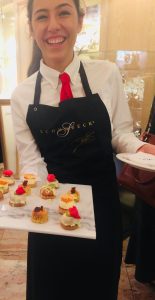 Uhrmacherkunst 
Im ersten Stock präsentierte Juwelier Fridrich "At Work", die neue Kollektion aus dem Haus Nomos Glashütte.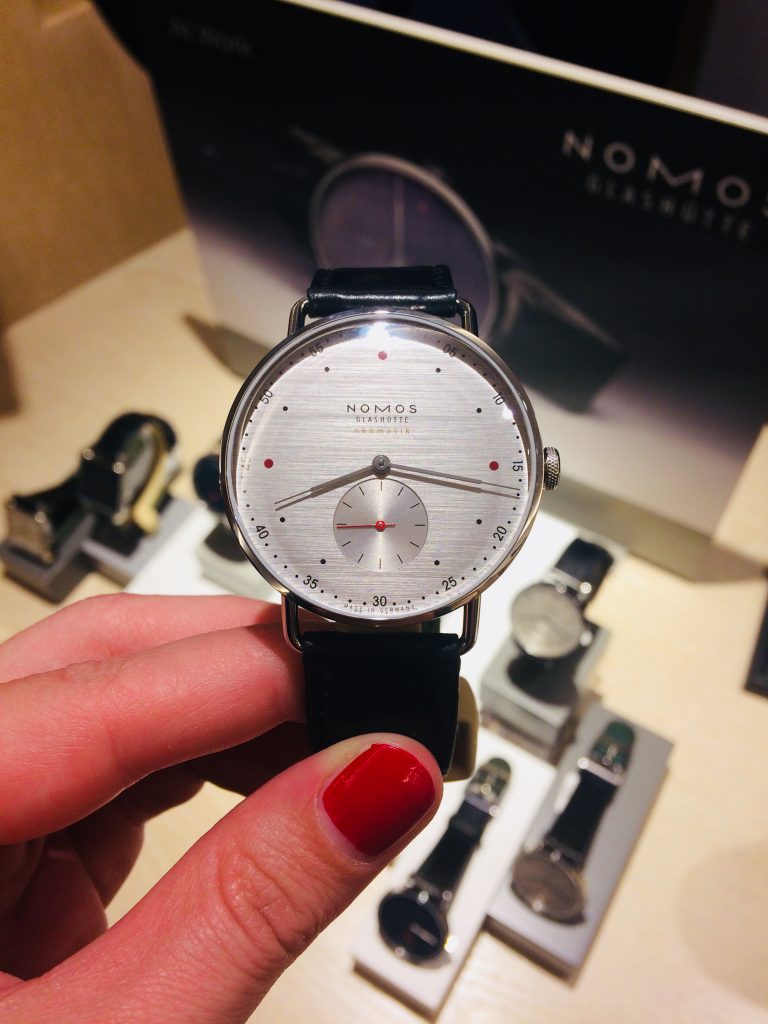 Aber nicht nur die Liebhaber feiner Uhren kamen auf ihre Kosten. Die Großuhrenausstellung der Münchner Uhrenmanufaktur Erwin Sattler fand ebenso reges Interesse. Alle Technikbegeisterten kamen aus dem Staunen nicht mehr heraus, als Entwickler Christian Schaffer, den Uhrenbausatz aus dem Haus Erwin Sattler vorführte und Stück für Stück die vielen Teile und Rädchen zusammensetzte.
Christian Schaffer (Uhrmachermeister) präzisiert:
"Um eine richtig komplizierte Uhr zu reparieren, benötigt man das passende Händchen, Leidenschaft und Geduld. Da aber keine Uhr ist, wie eine andere, beginnt das Puzzeln, Diagnostizieren und Problemlösen."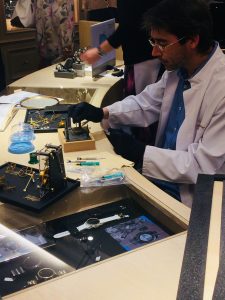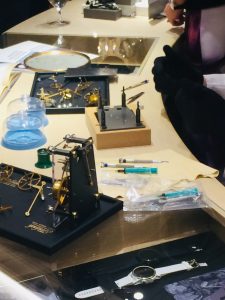 Dass es beim Problemlösen auch manchmal an nicht vorhanden Teilen scheitern kann, beheben die Uhrmachermeister unter sich. Man kennt sich und hilft dem Kollegen in Not auch gerne aus. 
Art of watchmaking
On the first floor, the house "Fridrich" presented "At Work", the new collection from the house Nomos Glashütte.
But not only for the lovers of fine watches the visit was worth it. The large-clock exhibition of the Munich watch manufacturer Erwin Sattler was just as interesting. All enthusiasts of technology could not help stay astonished, as developer Christian Schaffer, from the house Erwin Sattler demonstrated the watch kit and put together piece by piece the many tiny parts and wheels.
Christian Schaffer (watchmaker) says:
"To repair a properly complicated watch you need the right hand, passion and patience. No clock is like the other and there the puzzle begins."
That problem solving can sometimes fail due to not available tiny parts, the watchmaker master among themselves. You know each other and help colleagues in need.
Das Familienunternehmen mit langer Tradition 
Die Familien Fridrich und Lindner sowie ihre tollen Mitarbeiter, welche bis zu 50 Jahren Betriebszugehörigkeit haben, standen für alle Fragen der interessierten Kunden zu Verfügung. Sie waren perfekte Gastgeber und jeder spürte die Herzlichkeit des familiengeführtem Unternehmens. Wir möchten uns bei allen Beteiligten für diesen Abend bedanken.
Family-run business with tradition 
The families of Fridrich and Lindner as well as their great employees, who have up to 50 years of service, were available for all questions of interested customers. They were perfect hosts and everyone felt the cordiality of the family run business. We would like to thank everyone involved for this brilliant evening.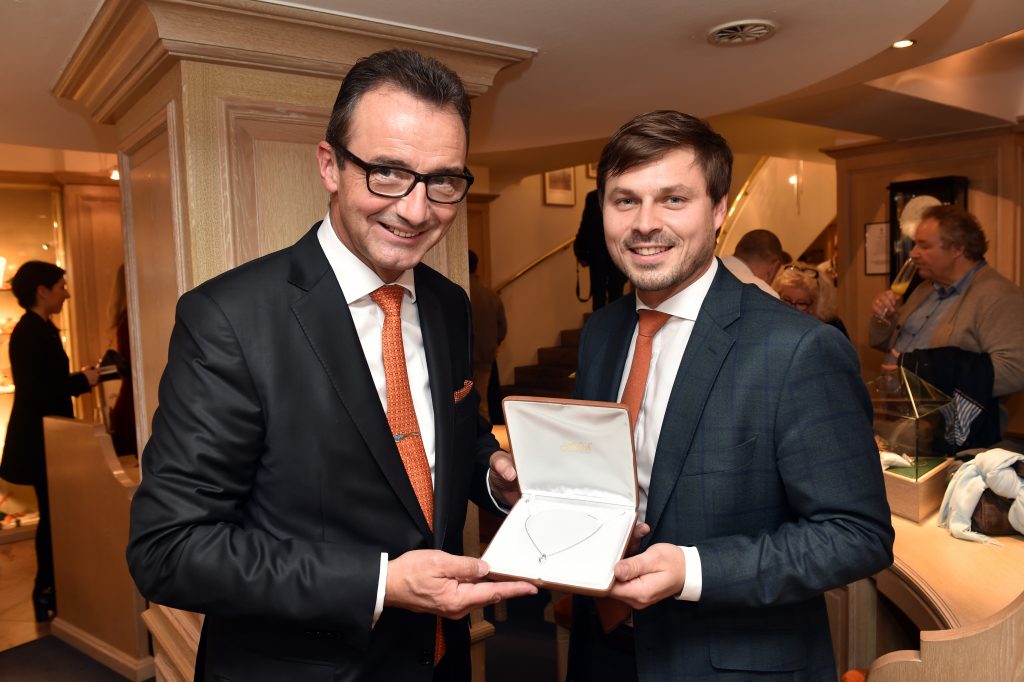 Hochkarätiges für eine gute Sache: Die Juwelier Fridrich-Geschäftsführer Stephan Lindner (links) und Korbindian Fridrich (rechts) mit dem 11.000 Euro Diamant-Collier, dessen Erlös bei Verkauf an die Stiftung LichtBlick Seniorenhilfe geht. (Fotocredit: Hannes Magerstaedt)