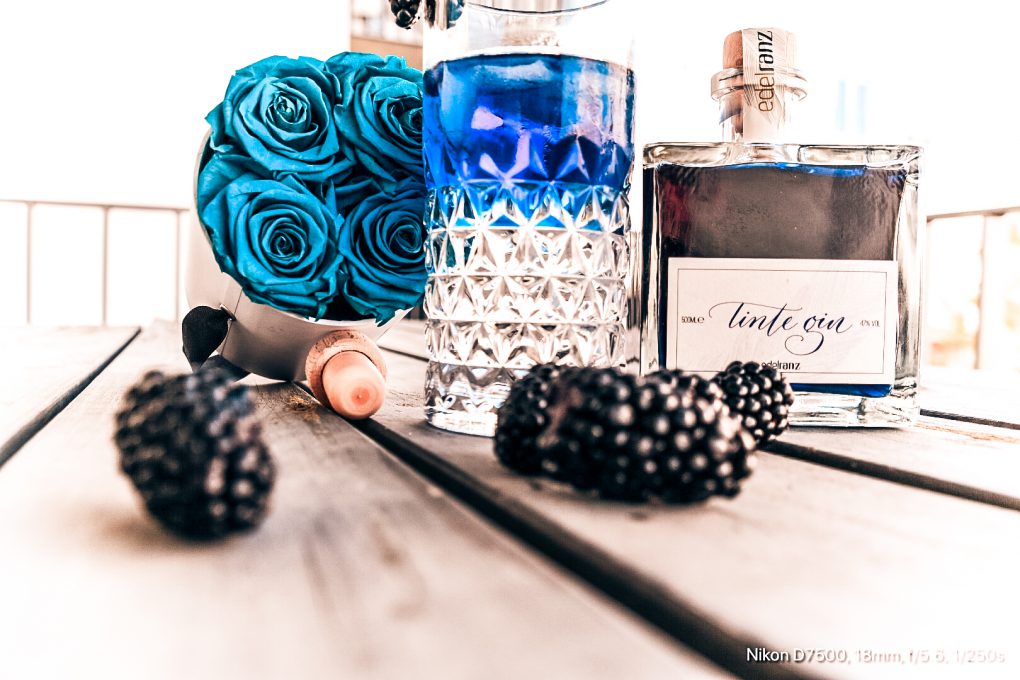 Tinte Gin – a special blue gin
This post is also available in:

Deutsch (German)
Tinte Gin "Everything Happens for a reason"
As is so often the case, Tinte gin by edelranz can now be offered to all gin friends and curious connoisseurs. After a vacation, Florian Polakovski (CEO) had a birthday party coming up. (Link to the shop here)
What are you supposed to do? give? Each of us has probably asked this question many times. Apart from Standard voucher and something personal.
Flo spontaneously created today's version of the Tinte gin. The guests at the birthday party were overwhelmed. That evening Florian knew that he had found his destiny. "To inspire people"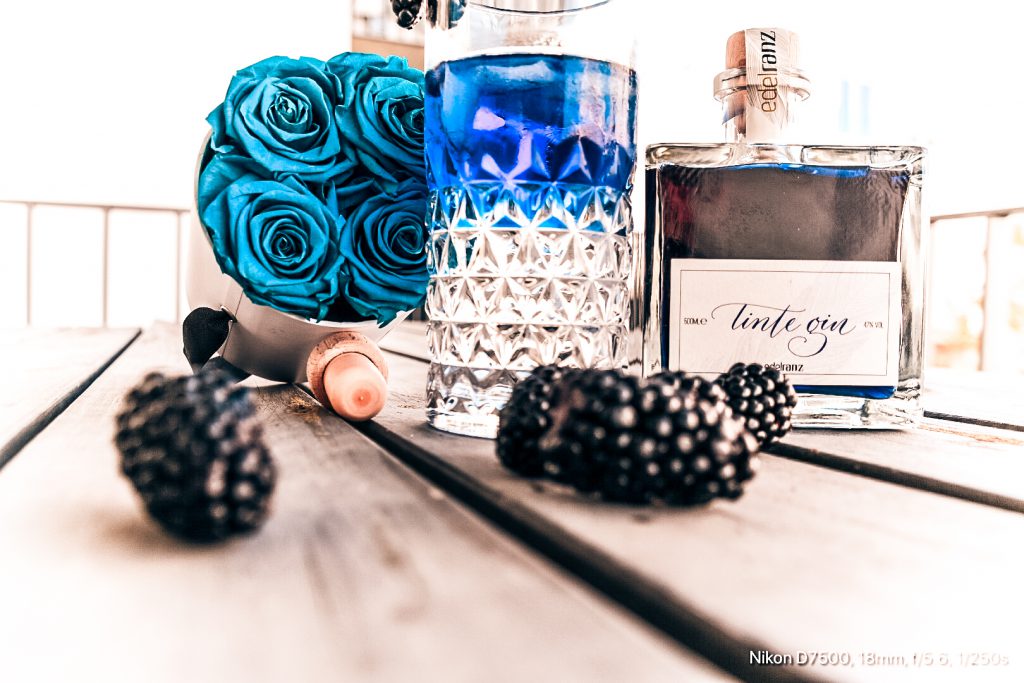 The Team
Florian Polakovski , is the managing director and the "Creator of Spirits" from edelranz. "Flo" has experimented a lot around the topic of refining spirits, extracted all flavors and "married" them with the appropriate spirits in his time as a barman and parallel to his courses like Bachelor in Economics or Master with a focus on economics.Thanks to various creations, his passion and the 50 special extracts and essences that are bottled in pharmacy dropper bottles in his living room, it is now possible to enjoy Tinte gin. The extraction of aromas is limited to vegetable raw materials.
Kadi Kamara, is the marketing and sales expert. After completing her Masters in Marketing in London, Kadi has successfully put her knowledge and passion for marketing into practice in several renowned companies. With her positive and captivating nature, she manages to turn a challenge into a new opportunity. Her laughter vibrates gin glasses. If she were not at edelranz, she would travel the world as a food tester.
Alexander Petruschin, is the engineer responsible for the technical questions. After completing his mechanical engineering degree, the busy supply chain specialist has already gained professional experience in responsible positions. He has already demonstrated his organizational talent and his eye for the whole thing when looking after international customers. For edelranz, "Alex" is the perfect man with his organizational talent and his eye for the whole.
edelranz
Edelranz is a very contradictory, polarizing name. "Sounds really cool, but what does edelranz actually mean?"
The name is emerged from an emotion and stands for the opposite, for that Individual, in the world we live in! Like light and shadow. We all, different as we are, form the yin and yang. Always in the flow, however part of a whole. It is precisely these contrasts that make our world perfect.
Kadi, Flo and Alex want to clear up the drawer thinking. In a world in which too much separates us, noble ranz wants to connect! The whole team is a colorful international group. Just like your first product, the ink gin, which is different. Traditions should not be irrefutable, they can always be supplemented by something different, something new and thus be the proof that change is exciting!
Communication on personal level
The Association of ink, an inkwell and a quill past times and old, often forgotten values recall. A letter with a pen for a chosen person and writing ink draws attention and a certain Appreciation towards her ahead. You have to take the time to get one to write such a letter. It's about connection and communication on a very personal level, more and more through modern media get lost.
Tinte Gin – enjoyable experience
Tinte gin is a pleasure experience. Whether pure, on ice or with tonic, it impresses with its unique fruity taste. With its deep blue color and the unusual bottle design of a cubic bottle, whose design is reminiscent of an old ink bottle, it can also be used decoratively.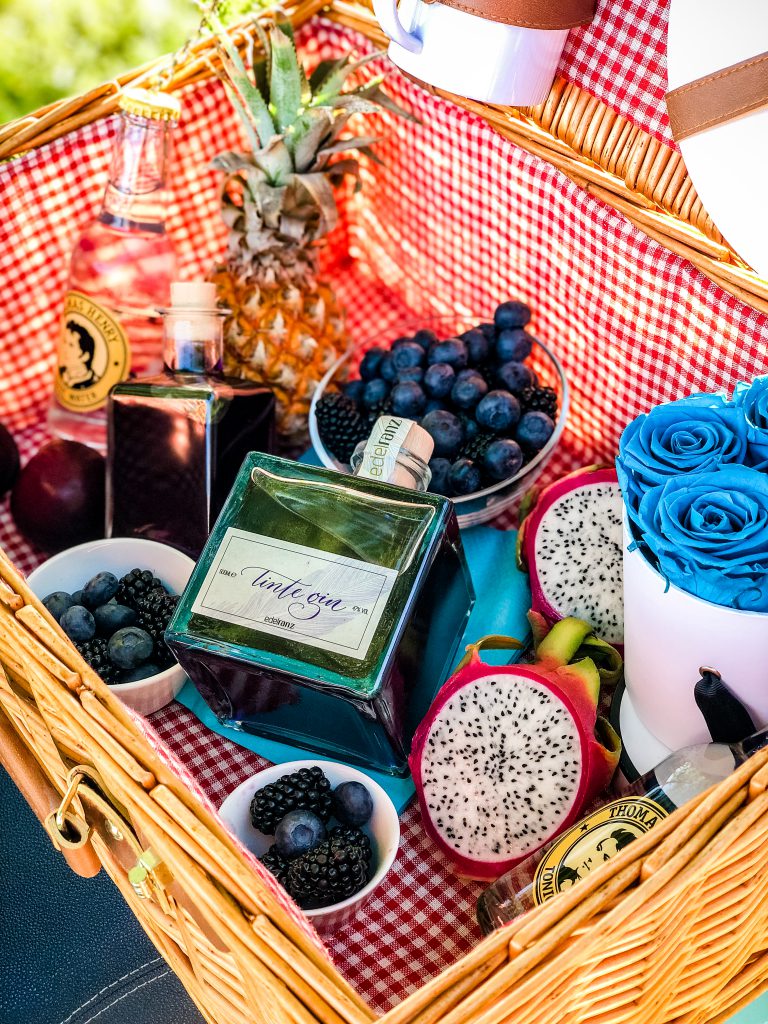 With Tinte Gin it is a classic dry gin, in which the juniper berry as the protagonist still has enough free space, but his others form – very extraordinary and rare – 9 supporting actors, the basis for be special bouquet without stealing the show. These carefully chosen Botanicals that cover every continent and so the world in one bottle unite, ensure a perfect harmony and balance of the respective aromas.
After this destilation process, the Tinte gin is refined in a purely natural way, whereby it takes on its distinctive and rich, blue color.
Diversity in perfect Balance
After a bit of three years of further development of bottle design, gin and over 60 firing trials finally the prototype turned into a product that covered the whole edelranz embodies philosophy in itself.
The main ingredients for Tinte gin are therefore passion, passion and creativity as well as the necessary feeling for harmony and balancing of flavors.
Tinte Gin the Allrounder
For us, the question always arises, what can you bring as a guest gift. Of course, alcohol doesn't always or always fit.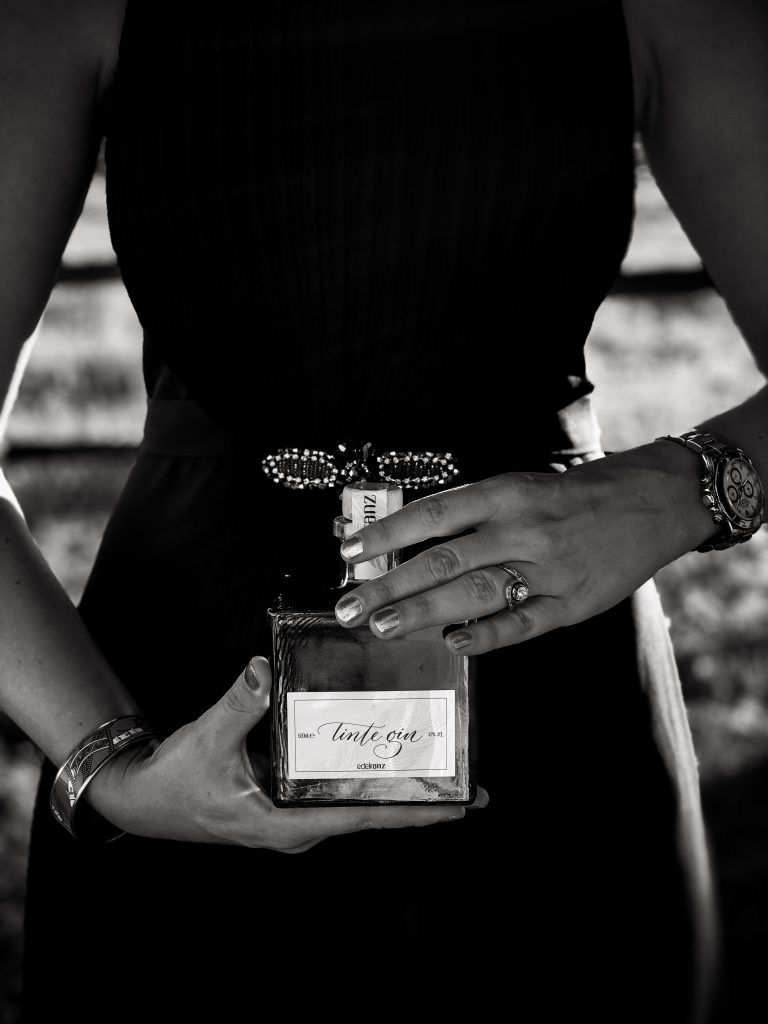 During our visit to the Weingut Schloß Salenegg a >, the oldest winery in Europe, we surprised the owner Ms. Helene von Gugelberg with a bottle of Tinte gin.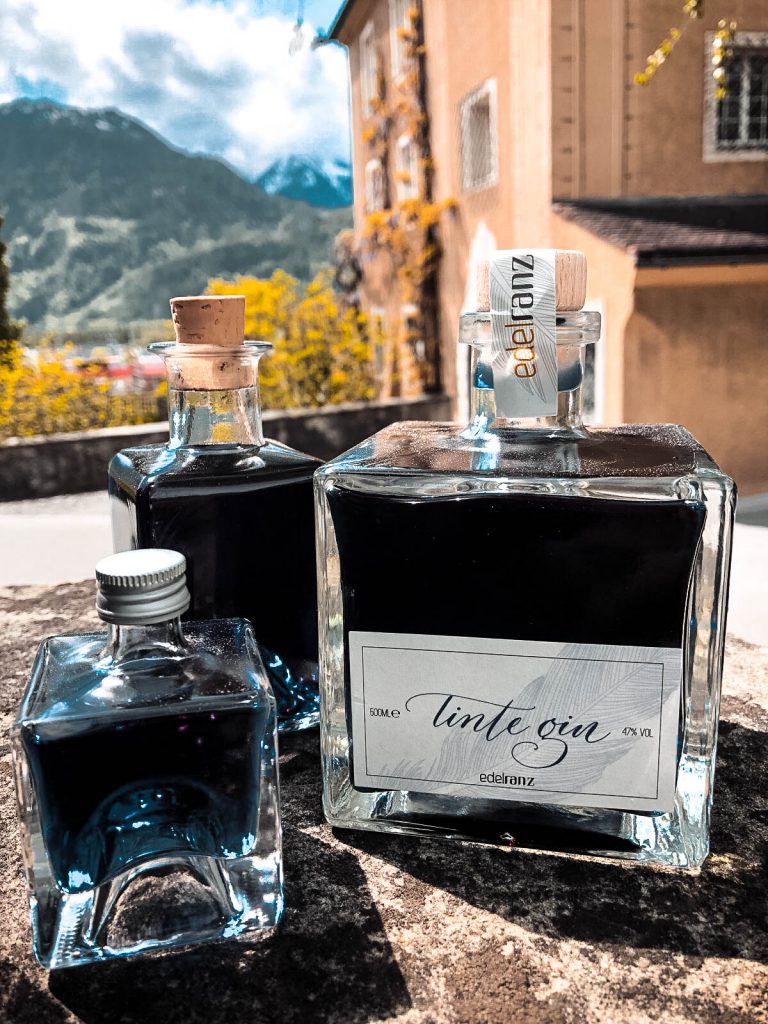 Our friend and Private chef Chriz Bauer , Fashion on a plate , is used to handling unusual ingredients. Cooking Tinte Gin was also a challenge for the professional.
For one dinner Chriz etched to create extraordinary color and a new taste a turbot.
Chriz worked with Tinte gin and grapefruit to put the colored head on an iced white tomato soup.
How nice you can decorate gin with a bottle of Tinte Gin, shows world star Anna Maria Kaufmann on the grand piano at home.
Every day you should enjoy luxury. Whether at home, or while hiking and barbecuing on a mountain vacation. That's our way of lifestyle.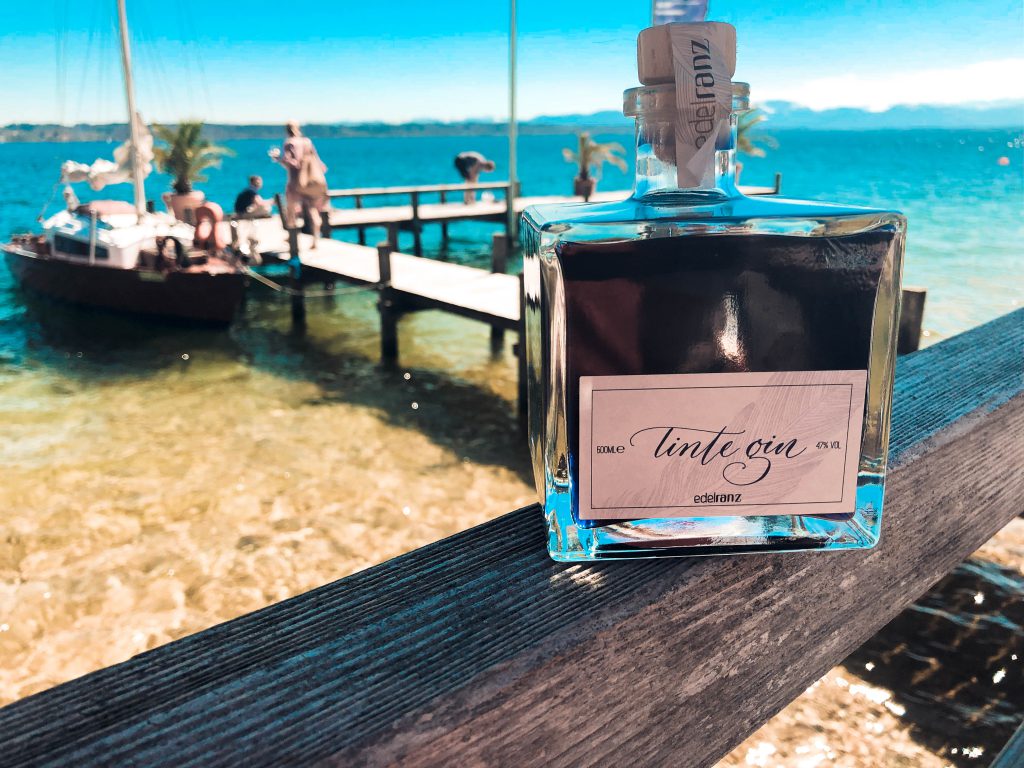 An extract of the botanicals
Europe:
Juniper
America:
Bergamot Flowers
Africa:
Rotsandelholz | Bukkoblätter
Australia:
acacia flowers | Lemon aspen
Asia:
Licorice | mysterious flower from the Far East