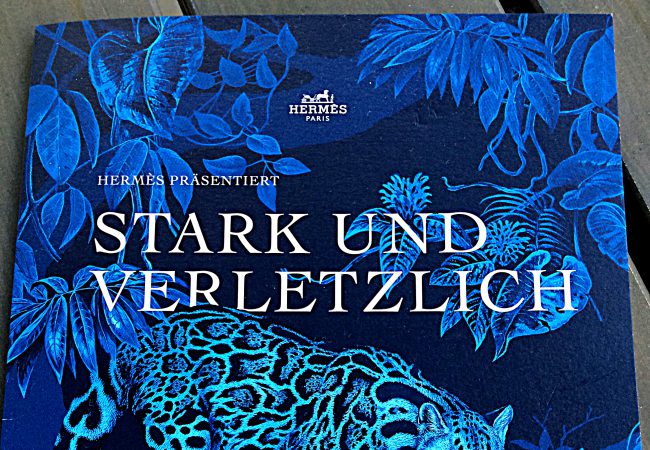 HERMÈS präsentiert – Stark und verletzlich – Fierce and fragile
Einladung zur HERMÈS Ausstellung "Stark und verletzlich" / Invitation to the exhibition "fierce and fragile"
Mode und Artenschutz, das scheint für viele nicht zusammenzupassen, zumal auch die Modeindustrie des öfteren diesbezüglich Verruf gerät. Doch bei HERMÈS passt dies zusammen. Die Ausstellung "Stark und verletzlich", präsentiert von HERMÈS in der Orangerie im Schloss Nymphenburg, die am 12. Juni feierlich ihre Deutschlandpremiere beging, hatten wir mit Spannung erwartet. In der Ausstellung sollten Werke des verstorbenen Künstlers Robert Dallet präsentiert werden. Der Name des Künstlers war uns hauptsächlich von dessen wunderschönen Seidentüchern (zum Beispiel "Jungle Love" in Blau aus 2016) von HERMÈS geläufig. Unser Interesse wurde somit von der eleganten Einladung bereits geweckt: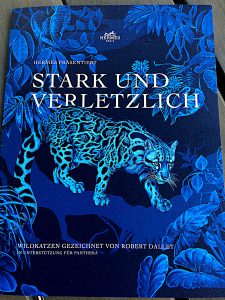 Fashion and species conservation, that does not seem to match for many, especially as the fashion industry often gets criticized in this regard. But at HERMÈS it matches. The exhibition "fierce and fragile" presented by HERMÈS at the Orangery in Schloss Nymphenburg, which celebrated its premiere in Germany on June 12th, we had eagerly awaited. At the exhibition works of artist Robert Dallet should be presented. The name of the artist was familiar to us mainly from its beautiful silks (for example, "Jungle Love" in blue from 2016) of HERMÈS. Our interest has thus been awakened by the elegant invitation. 
Hintergründe / background
Die Schutzorganistion Panthera ist eine gemeinnützige Wildkatzen Schutzorganisation und wurde 2006 vom New Yorker Thomas Kaplan gegründet. Der Künstler Robert Dallet (*1923 bis ✝2006) war bekannt als DER Wildkatzenzeichner. HERMÈS setzt dem Naturschützer mit dieser  Ausstellung, ein Denkmal. Das Pariser Haus setzt gleichzeitig ein Zeichen für die Artenvielfalt, etwas, das wie wir schon erwähnten in der Modebranche nicht selbstverständlich ist. Die Zusammenarbeit von Robert Dallet mit dem Hause HERMÈS begann  1988, als der Vater (Jean-Louis Dumas) des heutigen Kreativdirektors von HERMÈS Pierre-Alexis Dumas ihn überzeugte, dessen Werke für Seidentücher des Modehauses zu verwenden. Durch ein Treffen von Dumas und Kaplan, wurde die Initiative geboren, das Werk Dallets bekannter zu machen und um auf den Schutz dieser einzigartigen Tiere aufmerksam zu machen. Die erste Ausstellung der Werke zu diesem Zweck fand im Januar diesen Jahres im Bruce Museum in Greenwich statt. Die Ausstellung, in der Sie einzigartige Bilder und Skizzen von Robert Dallet der acht Großkatzen Tiger, Löwe, Leopard, Gepard, Puma, Jaguar, Schneeleopard und Nebelmarder sehen können, wird in weiteren 20 Städten zu Gast sein. Darunter sind neben Greenwich, Mailand und München auch London, Dubai und weitere Städte in Asien.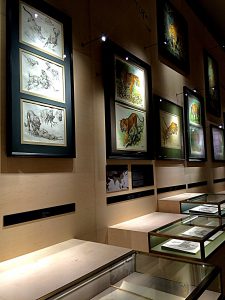 The NGO Panthera is a nonprofit organization protecting wild cats, founded in 2006 by the New Yorker Thomas Kaplan. The artist Robert Dallet (* 1923 to ✝2006) was known as THE Wildcats illustrator. HERMÈS sets him a monument with this exhibition. The Parisian house is simultaneously a sign of the diversity of species, something that in the fashion industry is not self-evident as we have already mentioned. Cooperation with Robert Dallet and HERMÈS began in 1988 when the father of the current creative director of HERMÈS of Pierre-Alexis Dumas, Jean-Louis Dumas him bought its dedicated works as motives for their silk scarves (carrées). In a meeting of Dumas and Kaplan, the initiative to the work Dallet was about fully reveal and to draw attention to the protection of these unique animals. The first exhibition of the work for this purpose took place in January this year in the Bruce Museum in Greenwich. Within the exhibition, you can see unique paintings and drawings by Robert Dallet of eight big cats tiger, lion, leopard, cheetah, puma, jaguar, snow leopard and fog Marder. The exhibition will be hosted in another 20 cities. Among these beside Greenwich, Milan and Munich are as well London, Dubai and other cities in Asia.
Die Ausstellung in München / exhibition in Munich
An HERMÈS gibt es stets etwas ganz Besonderes. Sei es die Entstehungshistorie, zu einem bestimmten Motiv oder warum man derzeit weniger Leder aus Spanien erhält (weil dort mittlerweile mehr Vegetarier leben und daher weniger "Material"zur Verfügung steht.)… ja bei HERMÈS ist man stets auf Nachhaltigkeit bedacht. Daher ist der Ort für die Ausstellung auch passend gewählt. Ursprünglich sollten dort im Orangeriesaal im Schloss Nymphenburg  250 Zitruspflanzen zum Überwintern Platz finden. Man muss zu dem vorgenannten nicht mehr allzuviel schreiben, die Bilder sprechen für sich und zeigen, mit welcher Leidenschaft der Künstler diese majestätischen Raubkatzen portraitiert hat.
At HERMÈS there is always something special. Be it always concerned the history of development to a particular motif or why it currently receives less leather from Spain (because there live more vegetarian and therefore fewer animals are eaten, causing less skin for the leather that can be used) … yes HERMÈS supports sustainability, therefore the venue and location for the exhibition is also suitably selected. Originally, there in the Orangerie room in Nymphenburg Palace 250 citrus plants had a place for overwintering. The images speak for themselves and show the passion of the artist which portrays these majestic big cats.
Der gesamte Rahmen war für den Austausch der Gäste untereinander, sowie das persönliche Gespräch mit der Geschäftsführerin Frau Rosenberg, dem Kreativdirektor Pierre-Alexis Dumas, sowie dem Son des verstorbenen Robert Dallets – Frederic Dallet perfekt. Natürlich brauchen wir nicht erwähnen, dass sowohl die Herzlichkeit des anwesenden Personals, sowie das Catering (Champagner, Roastbeef, frisch zubereitete Köstlichkeiten wie Jakobsmuscheln, kleine Desserts etc.) erstklassig waren und man gerne verweilte. 
Auffallend war auch, dass sich viele der Anwesenden mit einigen Stücken der HERMÈS Kollektionen mit Motiven von Robert Dallet, ob aktuell oder klassisch, eingekleidet hatten. Auch die Kleinsten wurden spielerisch an das Thema herangeführt, so gab es Bilder zum ausmalen und Postkarten mit den bekanntesten Illustrationen. 
The entire environment was elected perfectly for the interaction of guests to one another, and the personal conversation with the manager, Ms Rosenberg, the creative director Pierre-Alexis Dumas, and the Son of the late Robert Dallet – Frederic Dallet. Of course, we do not need to mention that both the warmth of the personnel at present, and the catering (champagne, roast beef, freshly prepared delicacies like scallops, small desserts, etc.) were top notch. It was also striking that many of all those present dressed with some pieces of HERMÈS Collections containing motifs of Dallet whether current or classic. Even the smallest were playfully introduced to the subject through pictures coloring and postcards with the most famous motivs of Dallet on postcards.
Wir freuen uns, dass diese Kooperation eines passionierten Künstlers mit der Ästhetik eines Modehauses wie HERMÈS zusammengefunden zustande gekommen ist, um auf dieses Thema aufmerksam zu machen. Zumal Mode immer auch Kunst ist, in der man sein Leben verbringt.
We are delighted that this collaboration of a passionate artist has met with the aesthetics of a fashion house as HERMÈS, in order to draw attention to this issue. Especially since fashion always is art in which one spends his life in. 
Quellen / sources: