St. Emmeramsmühle / Biergarten / Parkservice / beer garden / valet parking
Historie und Hintergrund – St. Emmeramsmühle
Die Mühle beim heiligen Emmeram war der Grundstock des Bauwerkes welches bereits im 14. Jahrhundert erwähnt wurde. Die erste Gastronomiekonzession der St. Emmeramsmühle stammt aus dem Jahre 1825. Sie liegt in Oberföhring, am nord-östlichem Ende des englischen Gartens an der Isar. Die St. Emmeramsmühle gilt mit Ihren 600 Aussensitzplätzen unter robust gewachsenen Kastanien, mit Blick auf grüne Wiesen und weidenden Schafen, als schönster Biergarten in München.
History and background
The mill at St. Emmeram was basis to the building which was mentioned in the 14th century. The first catering concession of St. Emmeramsmühle dates back to 1825. It is located in Oberföhring, on the north-eastern end of the english garden. The St. Emmeramsmühle is considered as one the most beautiful beer garden in Munich with its 600 outdoor seats under strong grown chestnuts, overlooking green fields and grazing sheep.
Umgebung und Anfahrt
Sie ist als Ausflugsziel bei Jung und Alt, Radlern, Hundebesitzern und Tagesausflüglern, Familien und Geschäftskunden sowie bei einiger Prominez sehr beliebt. Denn man erreicht sie gut mit der Trambahn nach Oberföhring und kann den einfachen Weg, den Isarhang, zur Sankt Emmeramsmühle laufen.
Environment and getting there
It is a destination for the young and the elderly, cyclists, dog owners and day-trippers, families and business customers as well as a polar destination for some prominent families. It can be reached well by tram to Oberföhring or can take the easy way, the Isar slope to get there.
Exklusiver Parkservice
Wer mit dem Auto kommt wird nur eine kleine Anzahl freier Parkplätze vorfinden – aber für 3€ bekommt man ein valet parking vorm Wirtshaus/Biergarten. Nobel geht die Welt zu Grunde sagen die Einen – für 3€ sicher gut eingeparkt die Anderen.
Exclusive parking service
For those traveling by car, there is only a small number of free parking spaces – but for 3 € you get a valet parking in front of the restaurant / beer garden. Nobel is the world to basically say – certainly good parked for only 3 € say the others.
Kulinarik
Wer sich dann gemütlich niedergesetzt hat, steht vor der Qual der Wahl. Hier ist es mehr als schwer, sich zu entscheiden. Vom rotem Currycremesüppchen zum Backhendl mit Kartoffel-Gurkensalat – oder doch lieber einem Schweinekrustenbraten und zum Nachtisch ein Mousse au Chocolat ist einiges dargeboten. Wir haben noch keinen anderen Biergarten kennengelernt, wo es eine solche Vielzahl von edlen Speisen bis hin zu gut bayrischer Küche gibt.
Der Service ist sehr zuvorkommend – selbst bei viel Stress nehmen Sie sich immer einen Moment Zeit für einen kleinen Smalltalk – hier fühle ich mich einfach wohl. Die Küche ist schnell und besticht immer durch gleiche Qualität. Nicht zu vergessen ist, dass die Portionen definitiv nicht mickrig ausfallen. Bei den Getränken ist es ähnlich wie bei den Speisen – eine große Auswahl auch für alle die kein Bier mögen. Die Wein- und Champagnerkarte gibt für einen Biergarten schon einiges her. Noch kurz einmal zum Edelstoff zurück: Das Spaten Hell vom Fass 0.5l zu 4.30€ ist für diesen Biergarten angemessen.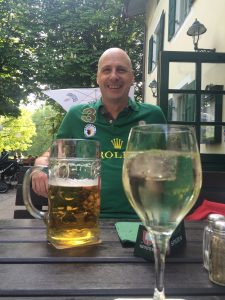 Culinary
Who then sat down comfortably, is being spoilt for choice – the menu. Int his respect it is more than difficult to decide. From red curry cream soup to fried chicken with potato-cucumber salad – or maybe a roast pork and as dessert a chocolate mousse is offered. We do not know any other beer garden, where there is such a variety of fine dining as well as good Bavarian cuisine.
The service is very attentive – even with a lot of stress they always take a moment for a little small talk – here I just feel comfortable. The kitchen is fast and always sticks to its usual quality. Not to mention that the portions definitely are big enough. With the drinks, it is similar to the food – a great choice for all those that do not like beer. The wine and champagne list for a beer garden is outstanding. Let's go back shortly to beer material: The Spaten Hell 0.5l to € 4.30 is appropriate for this beer garden.
Etwas Besonderes
Für Romantiker oder alle die nicht im Biergarten sitzen möchten, bietet die St. Emmeramsmühle auch das Picknick-Wagerl an. Lassen Sie sich alles nach Wunsch zusammenstellen und ziehen Sie mit Ihrem Wagerl in den Norden des Englischen Garten los. Nach viel Spass und tollen Stunden in freier Natur erkennt Sie der Parkservice und fährt Ihr Auto vor. Kein langes suchen "ja wo ist er denn" oder keine Bedenken vor unachtsamen Mitparkern. Einfach einsteigen und losfahren.
Was für ein einzigartiger Biergarten mit einem Hauch von Luxus beim exklusiven Parken!
Something special
For romantics or those who do not want to sit in the beer garden, the St. Emmeramsmühle also offers the picnic carriages. Leave your order with everything you desire, select and drag with your carriage heading to the north of the English Garden. After a lot of fun and great hours in nature the valet parking service drives up your car. Forget about the usual long search "so where is he", or any concerns before unwary other guests parking or even worse damaging.
Such a unique beer garden with a touch of luxury at the exclusive parking!