Atrium Prestige Thalasso Spa Resort & Villas
Rhodos Atrium Prestige Thalasso Spa Resort & Villas – Zu Gast bei Freunden / welcome to friends
Rhodos ist mit 1.401,459 km² die viertgrößte Insel Griechenlands
Rhodes is with 1401.459 square kilometers, the fourth largest island in Greece
Lage: Breitengrad  36,435, Längengrad 28,2175
Location: latitude 36.435, longitude 28.2175
Klima
Helios, der Sonnengott, schenkt seiner Insel die wärmenden Strahlen (über 3.000 Sonnenstunden im Jahr). Poseidon, Herr der See, hält die Meere sauber. Aeolos Winde bringen erfrischende Kühle auch im Sommer und lassen die bunten Segel der Surfer über das Wasser gleiten. Dionysos, Gott des Weines, lässt am Attaviros, dem höchsten Berg, edle Tropfen gedeihen. Demeter gibt der Erde die Kraft, in üppiger Pracht die Namensgeber der Insel hervorzubringen: die "Rosen" von Rhodos, die Blüten des Hibiscus.
Helios, the sun god, bestows his island with warming rays (more than 3,000 hours of sunshine a year). Poseidon, lord of the sea, keeps the sea clean. Aeolos` winds bring refreshing coolness in summer and let the colorful sails of the surfers slide on the water. Dionysus, god of wine leaves, thrives noble wines near Attaviros, the highest mountain. Demeter the force of earth produces the "roses" of Rhodes, the flowers of Hibiscus.
Atrium Prestige Thalasso Spa Resort & Villas – Das Hotel 
Es war Anfang Oktober und es musste ein Urlaub her. Sonne, Strand und Meer. Nur wo-?…wenn man nicht 10 Stunden im Flieger sitzen will oder in nahe gelegene Länder, wo die Terrorgefahr groß ist. Mit dem Finger auf der Karte sind wir über mögliche Länder und Inseln hinweggefegt. Auf der Insel Rhodos verharrte er. Gehört zu Europa, liegt sehr weit südlich und hat eine tolle Klimatabelle – ja, hier wollen wir uns detaillierter informieren.
Es war schnell herausgefunden, dass im Norden der Insel die meisten Hotels und Touristenzentren sind, aber im Süden der Insel ist es ruhiger und für Touristen eher wenig erschlossen. Daher auch vom Flughafen nocheinmal 1 std. Transfer zu einem der südlichen Küstenabschnitte von Rhodos, dem kleinen Ort Lachania. 
Die Fotos im Netz und was zum Rhodos Atrium Prestige Thalasso Spa Resort geschrieben wurde – ob vom Hotel oder von Gästen klang super. Kurzerhand buchten wir last minute. 
Atrium Prestige Thalasso Spa Resort & Villas – The Hotel 
It was early October and we needed a vacation. Sun, beach and sea. But where to go if you do not want to sit 10 hours in an airplane or head to nearby countries with a large terror threat. With our finger on the map, we swept about possible countries and islands. On the island of Rhodes we persisted. Belongs to Europe, is very far south and has a great climate table – yes, here we want to inform us in a detailed manner.
It was quickly discovered that in the north of the island, most hotels and tourist centers are established, but in the south it is quiet and rather undeveloped for tourists. Therefore, from the airport again 1 hour transfer to the southern coastline of Rhodes, to the small village of Lachania.
The pictures online and all that was written to Rhodes Atrium Prestige Thalasso Spa Resort – whether from the hotel management or guests sounded great. Without further ado, we booked last minute.  
Hotel Details 
"Neues Hotel" – wo auch alles funktioniert! Top Sauberkeit nicht nur auf dem Zimmer – alles und jeder Ort auf der Anlage war blitz sauber. Insbesondere auch die Sanitäranlagen unten am Strand waren beeindruckend sauber. 
"New Hotel" – where everything works! Top cleanliness not only in the room – but everywhere. In particular also the toilets down the beach were impressively clean.
Freundlichkeit des Personals / friendliness of staff 
Hier trifft der Text "willkommen – zu Gast bei Freunden zu"….und vielen Angestellten geht es finanziell durch die Politik und der Krisen nicht gut – dennoch sind Sie herzlich und natürlich freundlich.
The text "welcome to friends" applies perfectly…. and many employees which might really still suffer from the financial crisis and other restrictions, will never let you feel this and are warm and naturally friendly.
Zimmer mit Privatpool – Must-Have
Wir waren in der letzten Woche vor der Winterpause dort. Da das Hotel nicht mehr voll besetzt war, gab es ein Upgrade – Zimmer mit luxuriösem Privatpool.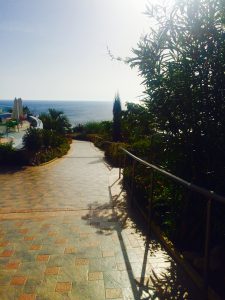 Ganz besonders nach dem Abendessen macht es viel Spass, spontan gegen 22:00 Uhr noch in den Pool zu springen. Aussentemperatur gute 28 Grad – Pool Temperatur 26 Grad. Es ist herrlich im Wasser rumzualbern, der Mond leuchtend am Himmel, freie Sicht auf das Meer und der Duft von den vielen Blumen, Bäumen und Sträuchern, die wunderbar in der ganzen Hotelanlage angepflanzt sind. Das Hotel befindet sich weit ab vom Schuss, den Strand muss man nicht mit weiteren Hotels teilen, – verfügt aber über einen Supermarkt, der so gut wie alles führt. Also wer auf die Schnelle noch eine Flasche Uzo braucht, findet sie dort – das nötige Eis besorgt man sich einfach an einer der Aussenbars.
Rooms with private pool – Must-Have
We visited the hotel in the last week before the winter break and season ending. It did not feel that anyone would elsewhere mentally. Since the hotel was not fully booked, there was an upgrade – rooms with luxury private pool.
Especially after dinner it makes a lot of fun to jump in the pool spontaneously around 22:00 again. Outside temperature 28 degrees – pool temperature 26 degrees – how refreshing is that ?! It is great to fool around in the water, the moon shining in the sky, great view of the sea and the smell of the many flowers, trees and shrubs, which are beautifully planted all around the hotel complex. The hotel is located off the beaten track, the beach you do not have to share with other hotels – it also has a supermarket, which contains almost everything at moderate prices. Who needs a bottle of Uzo on the fly finds it there – the necessary ice you will get at on of the outdoor bars.
Top Qualität der Speisen und der verwendeten Produkte / top quality of food and the products used
Das Frühstück bietet alles was man für einen guten Start in den Tag braucht. Dass wir uns hier jeden Tag länger aufgehalten haben, als üblich liegt besonders an der traumhaften Aussicht. 
The breakfast has everything you need for a good start to the day. We have stayed there longer than usual especially due to the amazing view.
Für Kinder gibt es den ganzen Tag Unterhaltungsprogramm und wer zwischendurch Hunger bekommt, da gibt es die Möglichkeit (gerne bei den Kindern beliebt) Pizza und Pasta im italienischen Restaurant zu verputzen oder wer es etwas gehobener mag, frischer Hummer vom Holzkohlengrill für zB 32€ – erstklassiges Preisleistungsverhältnis im griechischen A la Carte Restaurant "Thalassa".
For children there all day entertainment programs and those who get hungry during the day have the possibility (as love it the kids) to go for pizza and pasta in the Italian restaurant or in case you like it slightly superior, fresh lobster from the charcoal grill for example € 32 – in the greek a la carte restaurant "Thalassa".
Wellness und Sport / wellness and spa 
Wer sich seine Kalorien wieder abtrainieren will kann das im großzügig und modern eingerichtetem Fitnessstudio. Sauna, Dampfbad oder Wellnesprogramme sind gegen Gebühr auch zu erhalten. Auch diese Bereiche und Behandlungen sind erstklassig und empfehlenswert. Wer dann nach einiger Zeit der Ruhe dann doch noch etwas Action mag, der kann beim Beachvolleyball mitmachen oder sich kostenfrei ein Raket und Bälle besorgen, um sich auf den Tennisplätzen auszutoben.
Who wants to work off his calories again, there is a spacious and modern furnished gym. Sauna, steam bath or wellness treatments are to receive as well. These areas and treatments are excellent and recommended. Those who finally needs some action after some time of rest, can take part in beach volleyball or get a racket and balls and let off some steam on the tennis courts.
Strand und Meer / beach and sea 
Der (Sand-)Strand ist leicht zu erreichen – man kann sogar mit dem Lift bis zur Strandebene fahren – alles ist auch für Menschen mit einer Behinderung sehr schön durchdacht. Für alle, die sich nach dem Frühstück einfach nur an den Strand legen wollen bietet sich dieses Hotel natürlich auch hervorragend an. Eine schöne Strandbar ist vorhanden und auf Wunsch werden Getränke serviert. Das Meer ist herrlich sauber und es fällt nicht steil ab. Ob guter Schwimmer oder nicht – hier findet jeder die Möglichkeit ins Meer einzutauchen.
The (sand) beach is easy to reach – you can even take the elevator to the beach level – everything is well thought out also for people with a disability. For those who want to lie just at beach after breakfast simply, this hotel is an ideal candidate. A beautiful beach bar is also available and sends you drinks on request as well. The sea is wonderfully clean and it does not fall off sharply. Whether good swimmer or not – everyone will find the opportunity to dive into the sea.
Dinner 
Beim Dinner hat man im Atrium Prestige Thalasso Spa Resort immer ein Motto z.B. italienischer Abend, griechischer Abend etc. und jeder Gast wird mit einem dazu passenden Cocktail vor dem Restaurant empfangen. Und wieder sitzt man auf dem Balkon mit der tollen Aussicht – wem die Abendbriese etwas zu frisch ist kann natürlich auch innen speisen. Obwohl es in Buffetform angerichtet ist, hat man dennoch die Möglichkeit, bei den verschiedenen Hauptgängen diese sich aus der Küche angerichtet, servieren zu lassen. 
Vor jedem Dinner wird die gesamte Crew durch den Küchenchef und den Restaurantleiter gebrieft. Das ist nicht wie auf dem Hof einer Kaserne – eher zu informieren worauf es an diesem Abend besonders ankommt.
Wie bereits gesagt – das ganze Personal ist natürlich herzlich und sie geben alles, damit die Gäste zufrieden sind. Ein Trinkgeld gibt man hier gerne.
Leider steht die Zeit auch hier nicht still – der Tag der Abreise kommt. Wir können nur festhalten, dass Rhodos, Flugzeit 3Std und das Hotel Atrium Prestige Thalasso Spa Resort der Hotspot für einen Strandurlaub im Oktober sind, für alle jene, die es etwas ruhiger mögen. 
Dinner 
At dinner the Atrium Prestige Thalasso Spa Resort always has a motto as Italian evening, Greek evening and so forth. Each guest will receive a matching welcome cocktail outside the restaurant. And again you can sit on the balcony with great views over the moonlit sea. To whom the evening breeze is too fresh can of course dine inside. Dinner is served buffet style and there is still the possibility for the main courses to be done out of the kitchen a la minute to be served.
Before each dinner the entire crew is briefed by the chef and the restaurant manager. This is not like in the yard of a barracks – rather to inform what is particularly arrives this evening.
As it has been said – the whole staff is naturally warm and they do everything to make the guests happy. The tip is really earned and deserved. 
Unfortunately time flies by – the day of departure comes. We can only state that Rhodes, flight time 3 hours from Munich and the Hotel Atrium Prestige Thalasso Spa Resort are our hotspot for a beach holiday in October, for all those who like it more calm in a 5 Star Luxury Hotels whose reputation fast will become legend.